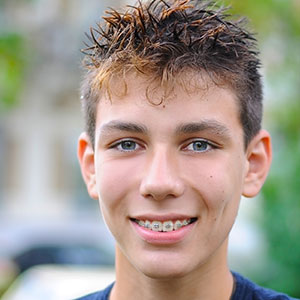 In 11 to 13 years olds, the baby teeth are usually all gone and permanent teeth have grown into place, for better or for worse. This is the time most take action to correct alignment, a bad bite or tooth spacing. Truth be told, orthodontic treatment becomes more difficult to treat with age. During adolescences, the skull, jaw and teeth are still adjusting to a growing body. This is an excellent time to take action.
There is a good chance upon the first visit, a couple of problems will reveal themselves. Here are some of them:
crowding, misplaced or blocked out teeth
jaws that shift or make sounds
biting the cheek or roof of the mouth
teeth that meet abnormally or not at all
jaws and teeth that are out of proportion to the rest of the face
The first visit with an orthodontic specialist is to detect and evaluate problems (if any), advise if treatment will be necessary, and determine the best time for that patient to be treated.
Adolescent treatment presents an opportunity to:
guide the growth of the jaw
regulate the width of the upper and lower dental arches (the arch-shaped jaw bone that supports the teeth)
guide incoming permanent teeth into desirable positions
lower risk of trauma (accidents) to protruded upper incisors (front teeth)
reduce or eliminate abnormal swallowing or speech problems
improve personal appearance and self-esteem
potentially simplify and/or shorten treatment time compared to treating during adulthood
17 DANBURY RD
Ridgefield, CT 06877
OPENING HOURS

Monday10AM - 7PM
Tuesday8AM - 5PM
Wednesday8AM - 5PM
Thursday7:30AM - 4PM
FridayOffice Only