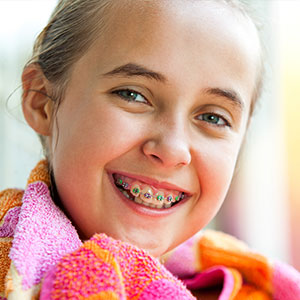 By age 7, enough permanent teeth have come in and enough jaw growth has occurred that the dentist or orthodontist can identify current problems, anticipate future problems and alleviate parents concerns if all seems normal. The first permanent molars and incisors have usually come in by age 7, and cross-bites, crowding and developing injury-prone dental protrusions can be evaluated. Any ongoing finger sucking or other oral habits can be assessed at this time also.
Some signs or habits that may indicate the need for an early orthodontic examination are:
early or late loss of baby teeth
difficulty in chewing or biting
mouth breathing
thumb and finger sucking
crowding, misplaced or blocked out teeth
jaws that shift or make sounds
biting the cheek or roof of the mouth
teeth that meet abnormally or not at all
jaws and teeth that are out of proportion to the rest of the face
A check-up with an orthodontic specialist no later than age 8 enables the orthodontist to detect and evaluate problems (if any), advise if treatment will be necessary, and determine the best time for that patient to be treated.
For those patients who have clear indications for early orthodontic intervention, early treatment presents an opportunity to:
guide the growth of the jaw
regulate the width of the upper and lower dental arches (the arch-shaped jaw bone that supports the teeth)
guide incoming permanent teeth into desirable positions
lower risk of trauma (accidents) to protruded upper incisors (front teeth)
correct harmful oral habits such as thumb- or finger-sucking
reduce or eliminate abnormal swallowing or speech problems
improve personal appearance and self-esteem
potentially simplify and/or shorten treatment time for later corrective orthodontics
reduce likelihood of impacted permanent teeth (teeth that should have come in, but have not)
preserve or gain space for permanent teeth that are coming in.
17 DANBURY RD
Ridgefield, CT 06877
OPENING HOURS

Monday10AM - 7PM
Tuesday8AM - 5PM
Wednesday8AM - 5PM
Thursday7:30AM - 4PM
FridayCare Appointments Only